Oratorical Contest
This contest allows Bixby school youth to gain experience in public speaking on a pre-assigned topic and if qualified, to participate at the district and state levels of competition.
The Optimist Club of Bixby is encouraging area students to speak their minds about the topic of  "If I were leader of the free world, the first issue I would address would be… " as part of the Optimist International Oratorical Contest for 2011. The deadline to hand in speeches is March 23, 2011.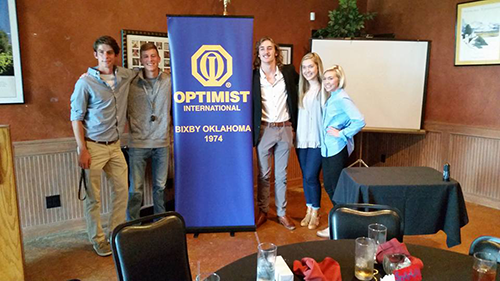 The Optimist Oratorical Contest gives youngsters the chance to speak to the world. More than $150,000 in college scholarships funded by the Optimist International Foundations is awarded annually from this program.
First conducted in 1928, this is the second most popular Optimist International Program. Nearly 2,000 clubs participate in this program each year. The winners at the Club level receive medallions and Zone winners receive a plaque. Districts have the opportunity to provide a first place scholarship of $2,500, a second place scholarship of $1,500, and a third place scholarship of $1,000.
Topic for the 2019-20 school year is:  "Just iMagine a World without Boundaries"
"iMagine" represents the organization's theme for 2019-2020 and it is written as shown for branding purposes. It does not replace the linguistic interpretation, intent, or spelling of the word "imagine or Imagine". As such, contestants are free to use the correct spelling for any contest or communications without penalty.
Who: Youth under the age of 19 as of October 1, 2019 (and is not enrolled as a degree seeking student of a post-secondary institution) in the United States, Canada or the Caribbean. There is no minimum age.
How To Enter: Interested students submit a speech on the pre-assigned topic to their local Optimist Club at info@bixbyoptimist.com.
Students
The deadline to enter is determined by the sponsoring Optimist Club. All Club-level contests are typically held by late March.